Camera Control & Live-switching System
Introducing MultiCamZilla version 3, now with support for Ronin S, SC and RS2 gimbals.  MultiCamZilla version 3 integrates control of compatible LANC and Panasonic video cameras, with smooth, professional pan/tilt operation, and switcher control, all in a single intuitive controller.  The system consists of the Master Control Unit, and up to 8 camera-side units.   The MCU replaces the software and interfaces from previous MultiCamZilla versions, allowing the v3 system to run on Mac or PC, or even standalone  You can control zoom, focus, iris, start/stop, On-screen display, and even menu functions, all from the controller.  The pan/tilt functions can be controlled from the joystick, or, for a truly natural camera operating experience, mount the MCU on a fluid head tripod, and the Ronin will track your movements.  The motion tracking is engaged by a footswitch which can be either normally on or off depending on your needs.  MultiCamZilla allows a single operator to run up to 8 cameras and control a switcher without ever taking their eyes off the monitor.  The Logitech controller puts 16 buttons and two joysticks under your fingers, all without ever having to look down.  We truly feel it's the most effective and ergonomic way to work.
At its core MultiCamZilla is a wired PTZ (pan tilt zoom) controller that transforms your compatible LANC or Panasonic video camera into a PTZ camera capable of being remote-controlled. Use it to augment your manned cameras, give yourself the ability to remotely "touch-up" your lockdown shots, or run the whole shoot yourself with integrated switcher control. MultiCamZilla is a revolutionary one-man-band style production system that allows a single operator to remotely control up to 8 cameras (expandable beyond 8 with customization). An ideal solution for mobile setups or fixed installations, MultiCamZilla is perfect for production companies, music venues, houses of worship, schools – anywhere you need affordable multicamera video production. Compatible cameras include JVC (i.e. GY-HM200U), Canon (i.e. GX-10), Sony (i.e. PXW-X70), and most other cameras that have a LANC port. MultiCamZilla also supports many Panasonic camcorders that use their standard "two-connector" protocol, including the popular DVX200, UX-90 and UX-180.
One Operator - 8 Cameras
MultiCamZilla allows a single operator to run 8 cameras simultaneously.
Live-Switch Capable
Integrates with BlackMagic Design ATEM switchers to facilitate easy live switching.
Quick to Setup
Combine MultiCamZilla with a compatible wired HDMI over CAT-5 or SDI over fiber converter to send video and control over a single cable.
Big Savings
Our system allows to you achieve professional results with much less crew – resulting in savings for you.
What is MultiCamZilla?
MultiCamZilla is a wired camera control system that allows a single operator to control up to 8 cameras, and also perform a live switch (currently compatible with BlackMagic Design ATEM switchers) all from a single PS3-style controller. Pan, tilt, zoom, focus and IR menu control (for select Canon cameras) are all right at your fingertips. You can use MultiCamZilla as a one-man-band style production system, or use it to augment manually operated cameras to provide additional coverage without the additional cost. Combine MultiCamZilla with a compatible wired HDMI over CAT5 converter (not included), or SDI/RS485 over fiber converter, and you can send video and control over a single cable.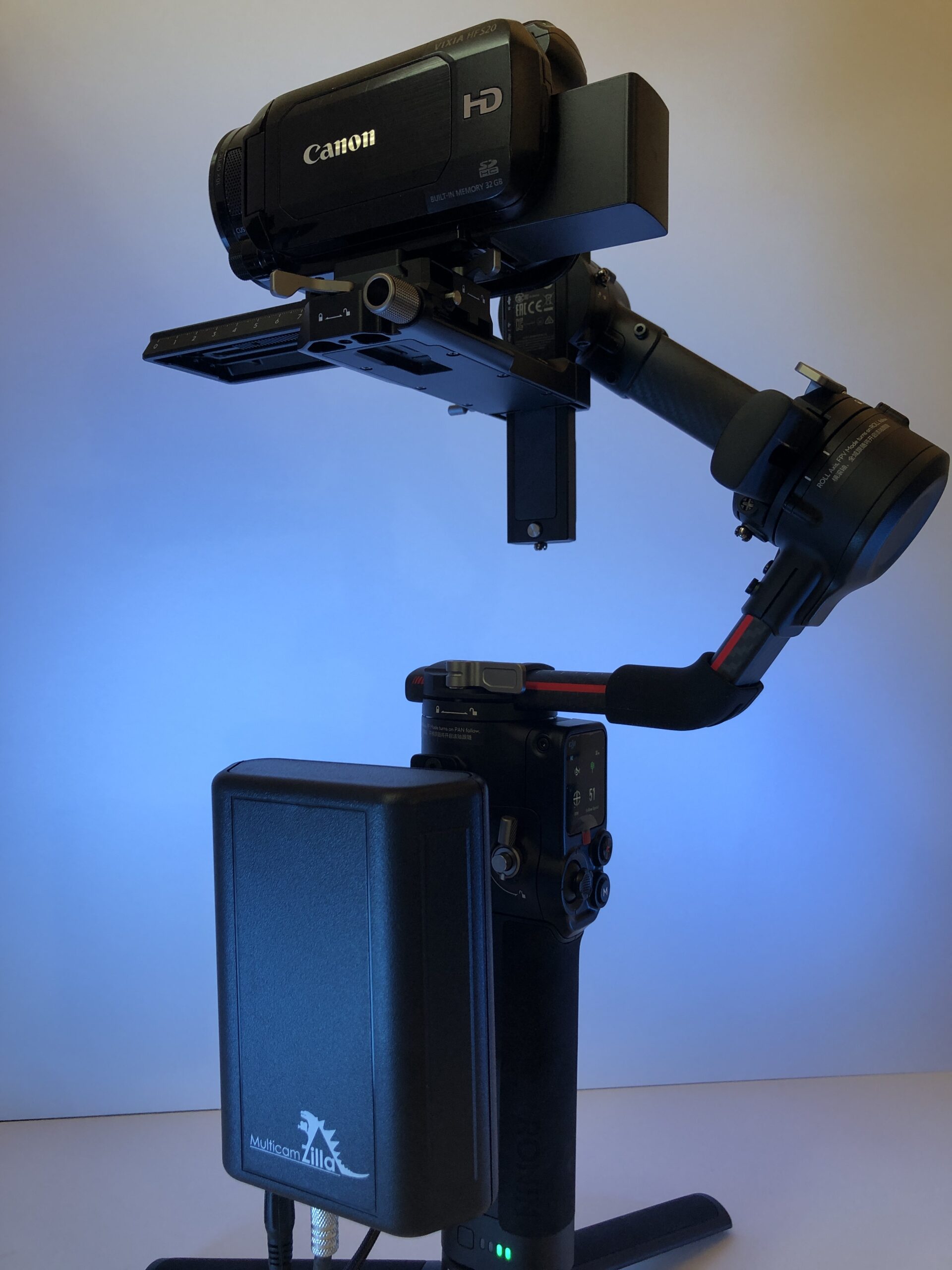 Version 3 now shipping!
MultiCamZilla version 3 adds precision control of Ronin S, SC and RS2 gimbals as a pan/tilt, in addition to control of zoom, focus, iris and more.  You can control the Ronin from the joystick on the Logitech, or place our master control unit on top of a fluid tripod head, and it will precisely track your movements for an incredibly natural camera control experience.  In its most basic form, MultiCamZilla version 3 can be used as a standalone, wired remote camera system.  You can connect a MultiCamZilla pan/tilt or v3 Ronin unit directly to the MCU using a CAT-5 cable with the supplied adapters.  As an alternative, using a compatible HDMI over CAT-5 extender, you can send your camera's HDMI signal, as well as camera/PTZ control over a single CAT-5 cable.  For SDI users, you can use a compatible SDI fiber extender to send video and data on a single fiber line.  You can then feed that video signal to a switcher, as well as a monitor for the remote camera operator.  This could be useful if you want to place a camera closer to the action at a sporting event, perhaps somewhere an operator couldn't fit, or simply to get the operator out of the sun. 
Another scenario would be to have a single operator operate several cameras as part of a larger production.  We have integrated support for the Decimator DMON-QUAD to allow an operator to monitor 4 SDI cameras as part of a larger production.  The operator can even bring a camera full-screen to check focus, and then switch back to the quad split, right from the controller.  The DMON will also display tallies to indicate which camera they are controlling, and program tallies from the switcher can be integrated as well, so the operator knows when they are live.  
MultiCamZilla Version 3 is backward compatible with version 2 pan/tilts, so you can mix and match which type of pan/tilt is most practical for your situation.  If you want the ease of use of a pan/tilt without the balancing and setup of a gimbal, a version 2 pan/tilt might be worth having in your arsenal as well.  
There are so many ways to use the new MultiCamZilla version 3 system, we're excited to see what you come up with. 
Switcher Integration
For basic ATEM switcher control, setup could not be easier, as the v3 MCU can emulate a keyboard and control the ATEM Control Software without any additional setup or installation.  If you want to dive deeper, the MCU is also a USB MIDI interface, and switcher functions can be easily mapped using various 3rd party software options like Central Control, ATEMOSC with OSCulator, or Companion.  By using MIDI as the interface, we've added longevity and flexibility with future versions of switcher systems.  
Camera control functions (using LANC for camera control and IR for menus)
Pan/tilt (variable speed, low noise level)
Latching slow zoom in/out (you can start a slow zoom and switch to controlling another camera and the zoom on the previous camera will continue uninterrupted)
Autofocus (toggle or momentary)
Front Tally LED for Preview and Standby (only when selected through the Camzilla controller)
On-screen display output on/off
FULL MENU FUNCTIONS (adjust all camera settings via IR commands, using the Logitech controller as the remote)*
*For IR Menu Control: Canon Vixia HF-S200, HF-S20, HF-S21, HF-S30, HF-G20, HF-G30, HF-G40, XA25, XA20, XA10, XA30, XA35.
System Requirements
Mac or PC Compatible
BlackMagic Design ATEM Video Switcher and "ATEM Software Control" software (only required for switching)
LANC or Panasonic compatible Video Camera**
Frequently Asked Questions
Why use a game controller instead of a PTZ joystick or something else?
When running multiple cameras and switching live at the same time, the most important thing is to get as many controls directly under your fingers as possible, so you never have to take yours eyes off the screen, and can work purely by feel. The Logitech controller puts 16 buttons and 2 joysticks directly under your fingers, and embodies over 30 years of controller evolution, with comfort and long-term usability as key design factors. For a system like this, there is nothing more suitable than this type of controller, which is why we are using it.
Can the camera positions be re-called?
No, this is a real-time only system. As great as recall would be, it would drive the cost up significantly.
What kind of cable does the wired connection use? Is it ethernet?
MultiCamZilla v3 uses 5v RS232/TTL serial or RS485, which can be sent over a compatible HDMI or SDI extender, or run directly using a standard CAT-5 cable using the included adapters.  MultiCamZilla v2 uses standard CAT-5 cable with standard ethernet pinout, but it is NOT ethernet, so it cannot run through a hub or switch, it must be a point-to-point connection from the MCZ-MCU to the pan/tilt.
Can I use the system for just camera control and not switching?
Yes, you can disable the ATEM Control Software keyboard commands, so only the camera control commands will be sent, not the switcher commands.
Do you have a version that will work on PC?
MultiCamZilla is Mac or PC compatible, and can also work stand-alone for camera control.
Can the controller functions be changed?
The controller functions have been developed over years of use and are part of the system and cannot be changed.
Why did you decide to design and sell this system?
This system is the result of a life-long obsession with multicamera video production, and a desire to push the limits of what can be done with a small budget and limited (or sometimes zero) crew. I have shot hundreds of concerts and other events using various incarnations of this system during its development, and now I want to empower other people to add multicamera capability to their systems as well.
What's your return policy?
MultiCamZilla comes with a 30 day money-back guarantee.
Does the equipment come with a warranty?
MultiCamZilla equipment comes with a 1 year repair/replacement warranty.